Martina Minhard
"Inventor" of Al-Qahira, always searching for new possibilities to promote the Spanish Arabian, looking for old bloodlines, she is an ambitious driver and is riding just for fun!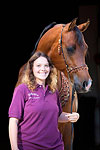 Andrea Wohlfart
is responsible for the horses' physical condition, she cares for food, farrier and vet. She is working in the stables, she is teaching the foals and she prepares the horses for the photographer, for shows and competitions. Andrea owns her dream mare Arabians Alameda and is pictured here with Valeroso Qahira.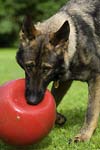 Kelly
As guardian of house and stables she is sometimes eagerly chasing also our cats and anything smaller than her!

Einstein
If it was possible to escape Kelly he is keeping busy with catching mice!