The story of
Al-Qahira
spanish arabians
– more than just pretty faces
I bought my first spanish arabian in November 1996 to have a friend and driving companion for my Arabo-Haflinger (25 % arabian & 75% haflinger).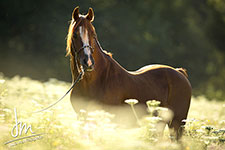 After having recognized L.M.Libretto's pedigree I tried to find a spanish arabian mare, that would fit to my stallion's bloodlines and to my budget. Since this proved to be very difficult, I bought a marbach-egyptian-spanish yearling filly with a cross to Zancudo, like Libretto has. After one year I found the first spanish mare, Shamal (Abha Harim X Abha Saira by Halebi).
L.M.Libretto, out of old bloodlines of the
Yeguada Militar (Drago x Dadobia by Falce)



This was the beginning of a story ...
It has always been my goal to breed a typey spanish arabian – not "only" a show horse, but outstanding enough to participate in shows. At the same time I expect my horses to be functional, I want to be able to use them for either riding or driving. I am aiming for MORE than just a pretty head!! To me a beautiful, correct arabian with pedigree, combining performance with a gorgeous character makes the perfect horse!
By now I have nearly all important spanish bloodlines in my stud, some very interesting ones, some that are not so popular! All of our young horses grow up in the Austrian mountains, spending their days outside and not isolated from each other. All females from foal to old mare stay together. Once the youngsters are grown up we start with their training.
We focus on each horses' abilities, some are better suited for riding, some for driving. Whatever their qualities are, we want them performance tested.
Our most successfully bred Arabians are the bay
Valeroso Qahira
(L.M.Libretto x Bel Princess by El Perfecto) - already breeding - representing Al-Qahira in the showbiz : Austrian Reserve Jun. Champion, always Top 5 in shows in Austria, Germany, Italy and Switzerland from 2003 to 2005.
The chestnut
Espinosa Qahira
- very successful in sports and shows. She is two times European Champion 2007 and 2005, Bronze Medal Winner Driving 2005, National Champion Dressage and Obstacle Driving 2006, Libertychampion and Classwinner Typ & Confirmation.
In my opinion it is more important to encourage the sport horse in an arabian than only the show horse! The combination of beauty and functional performance is what we are aiming for in our arabians.
Only the best stallions should be used to reach this attainable goal.
I therefore do not mind gelding a stallion, if need be, a well performing horse does more for the breed than a crazy, unridden stallion!
Each year three to five foals are born at Al-Qahira, all pure spanish, I do not want to cross my precious bloodlines with others, because I want to preserve the rare spanish genepool - the spanish arabians are getting rare!



This is our story and I am following my goals. Although I do appreciate advice from others I stick to my very own and special way. That makes me happy - and also my pure spanish arabians!
Thank you for your interest, you are cordially invited to a virtual tour through our studfarm, I hope you will enjoy what you will see,


Sincerely Yours,
Al-Qahira Spanish Arabians
Martina Minhard